Since the Iola Police Department installed a pair of digital crime-information kiosks in town about two months ago, it has received a number of tips directly linked to the new tools.
"I know of at least a couple $10,000 warrants that were called in," said Mike Ford, community resource officer for the Iola Police Department and president of Kansas Crime Stoppers. "We're a small town, so those are pretty big ones."
Currently the town of 5,600 people has two of the kiosks, and the department is pleased with the number of tips it has received, Ford said. (more..)
KIRKSVILLE, Mo. — New to the state of Missouri comes a program to better link law enforcement to the community.
The Adair County Sheriff's Office, partnered with Hy-Vee, has installed a notification kiosk..
Named "The Community Pro-Tektor", the kiosk is programmed to showcase information that comes out of the Adair County Sheriff's Office. (more..)
HIGH POINT — With new tools in its arsenal, Crimestoppers hopes to expand its reach in helping police capture wanted suspects.
With the help of a donation from a local security systems company, Crimestoppers of High Point recently put a Community Pro-Tektor kiosk at Pantry Fried Chicken on E. Martin Luther King Jr. Drive.
The kiosks aid police in everything from identifying a shoplifting suspect to asking for someone with information about a homicide to come forward anonymously. (more..)
The St. Johns County Sheriff's Office is getting more help fighting crime thanks to technology.
"The Community Pro-Tektor" is a digital kiosk that displays information about fugitives, cold cases and even Amber Alerts.
"It's a great information tool, we get a lot of tips off of that from unsolved crimes that we have," said St. Johns County Sheriff's Office Cmdr. Chuck Mulligan. (more..)
They might not spit out a DVD or reveal a bank balance, but the information on these kiosk screens could catch a criminal or even save a life. And, it seems, local businesses and the people who frequent them are relying on the Sheriff's Office crime-prevention kiosks that are appearing in more corners of the county.
"They're in all of our stores," said Kevin Camp, operating partner and co-owner of the Burger King outlets in Marion County. "People look at them constantly; I find myself looking at them whenever I'm in one of our stores." (more..)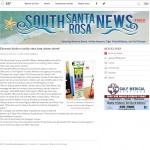 The Santa Rosa County Sheriff's Office is adding additional staff to tackle crime around the county and it's not costing them a dime. Their new recruits? Its citizens.
The sheriff's office recently announced their plans to erect an "Electronic Crime Fighter" in every Walmart throughout the county.(more..)
SIDNEY — A new way to keep the community safe has been installed in the vestibule of Wal-Mart in Sidney.
The Pro-Tektor device, installed on Wednesday, is aimed at preventing crime and getting information to the public quickly, according to Shelby County Chief Deputy Jim Frye.
The five and a half feet tall electronic kiosk is personalized in real time with information programmed into it remotely from the sheriff's office. (more..)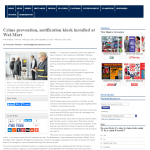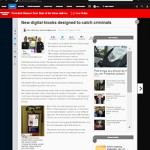 It's suddenly much easier for local citizens to get their face on the small screen.On Thursday, the Santa Rosa County Sheriff's Office began broadcasting wanted fugitives, missing persons and public service announcements on electronic kiosks that will be distributed around the county. (more..)
Citizens of Santa Rosa County, Florida, will soon be able to more easily identify criminals due to new digital signage kiosks that broadcast information on missing fugitives. The county's sherriff office began to broadcast this information to the kiosks on Jan. 7, 2016, with plans to distribute three of them at community gathering points soon, according to a report by Pensacola News Journal. (more..)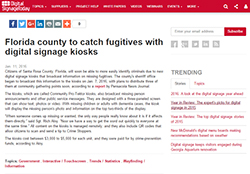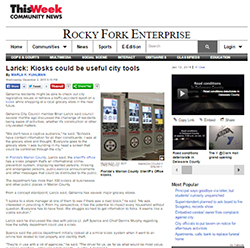 Gahanna residents might be able to check out city legislative issues or retrieve a traffic-accident report on a kiosk while shopping at a local grocery store in the near future.
Gahanna City Council member Brian Larick said council several months ago discussed the challenge of residents being aware of activities, whether it's construction or other city-related matters. (more..)
The St. Johns County Sheriff's Office is using a new way to put public safety information in front of residents.
Federal dollars are funding six safety kiosks in busy areas around the county.
The Pro-Tektor kiosk screens are divided into three sections. The top shows information about missing people and unsolved crimes. The bottom of the screen shows information about wanted criminals and sex offenders and in the middle are safety tips. (more..)