Larick: Kiosks could be useful city tools
Gahanna residents might be able to check out city legislative issues or retrieve a traffic-accident report on a kiosk while shopping at a local grocery store in the near future.
Gahanna City Council member Brian Larick said council several months ago discussed the challenge of residents being aware of activities, whether it's construction or other city-related matters.
"We don't have a captive audience," he said. "Schools have contact information for all their constituents. I was at the grocery store and thought, 'Everyone goes to the grocery store.' I was building in my head a screen that could be controlled through the city."
In Florida's Marion County, Larick said, the sheriff's office has a kiosk program that's an informational crime-prevention system, displaying wanted persons, missing and endangered persons, public-service announcements and other messages that could be distributed to the public.
The department has more than 100 kiosks at businesses and other public places in Marion County.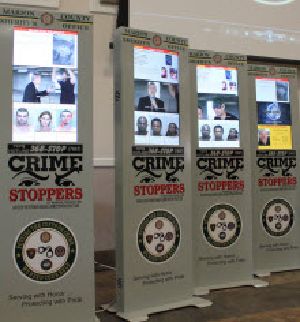 Florida's Marion County Sheriff's Office kiosks.
From a concept standpoint, Larick said, Gahanna has several major grocery stores.
"I spoke to a store manager at one of them to see if there was a road block," he said. "He was interested in providing it. From my perspective, it has the potential to impact every household without question. Everyone has to have food. We struggle so hard to get information to folks. It seems like a viable solution."
Larick said he discussed the idea with police Lt. Jeff Spence and Chief Dennis Murphy regarding how the safety department could use a kiosk.
Spence said the police department initially looked at a similar kiosk system when it went to an online tool related to lost property and identity theft.
"They're in use with a lot of agencies," he said. "The driver for us, as far as what would be most value, is online reporting — retrieving crash reports — our No. 1 demand."
Spence said the places he has seen them demonstrated use them to push out crime alerts.
"We could push out records-request type of things," he said. "They will position them in the store that makes sense. They provide a data line to hook up and we provide the kiosk."
Larick estimates the cost would be about $40,000.
Mayor-elect Tom Kneeland said Whitehall police use a kiosk for petty-theft reports.
"This is a pretty neat concept," he said. "I think it's worth looking at, from a communications aspect. It's an opportunity for us."
Kneeland suggested a demonstration.
"I would love to see this in 2016," he said.