Kansas Crime Stoppers lobbying to place digital crime prevention kiosks in Douglas County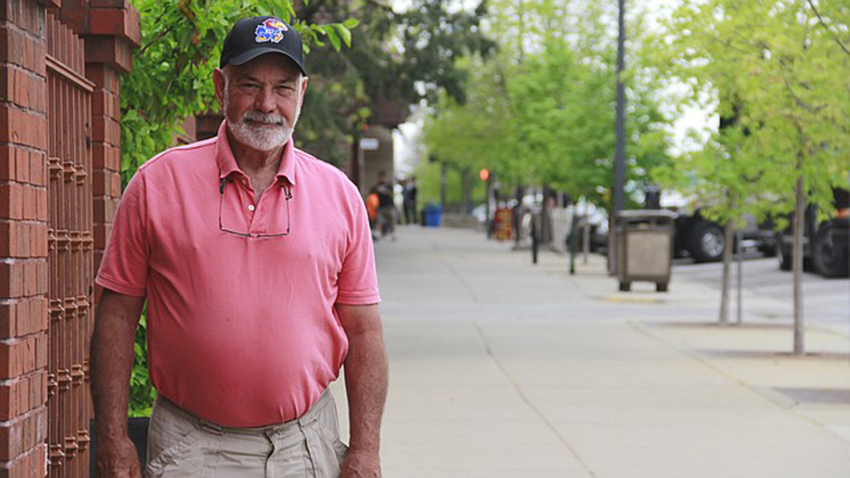 Patrick Rapp, chairman of Kansas Crime Stoppers, is trying to install a few digital crime kiosks — called the Pro-Tektor — in Douglas County.
Since the Iola Police Department installed a pair of digital crime-information kiosks in town about two months ago, it has received a number of tips directly linked to the new tools.
"I know of at least a couple $10,000 warrants that were called in," said Mike Ford, community resource officer for the Iola Police Department and president of Kansas Crime Stoppers. "We're a small town, so those are pretty big ones."
Currently the town of 5,600 people has two of the kiosks, and the department is pleased with the number of tips it has received, Ford said.
Now, Patrick Rapp, chairman of Kansas Crime Stoppers, is vying to install a few of the digital kiosks — called the Pro-Tektor — in Douglas County. He hopes they'll produce the same results the Iola Police Department is noticing.
The kiosks stand several feet tall and have a display screen that is divided into three sections, Rapp said.
The first section is current or breaking news, Rapp said. It can display Amber Alerts, missing-person reports or criminal news.
"Maybe there's a robbery going on at 23rd Street," he said. "It's immediate."
The second section displays community alerts, Rapp said.
"Maybe we've got a storm coming, we've got a tornado in the area, we've got a bridge out," he said.
Douglas County Sheriff's Office Sgt. Kristen Dymacek said if the kiosks were placed in the area, the sheriff's office could use them for public service announcements as well as for the community alerts.
These types of public service announcements might include drug take-back events and things like "Coffee with a Cop," Dymacek said.
And the third section displays a rotating list of offenders and suspects wanted by police, accompanied by their pictures and other information, Rapp said.
The overall idea, of course, is to help make the community safer, Rapp said. The kiosks are meant to draw in additional tips to local law enforcement, help departments work together and raise community awareness.
The goal is to find several area businesses who are willing to pay for the kiosks, which are priced at $3,895 with a monthly software fee of $50, Rapp said. In exchange, the businesses can have their logos displayed at the top of the kiosk.
The law enforcement agency that operates the kiosk will have its logo prominently displayed at the bottom of the device.
In addition, Ford said the business logos can be shown on the kiosk's screen. However, they're not allowed to advertise specific deals, sales or things of that nature.
Ford said that in Iola, multiple businesses were offered an opportunity to buy into the kiosk for a fraction of the total cost. Then, all the businesses that contributed can have their logos stream across the kiosk's screen every two or three minutes, he said.
Once the kiosks are paid for and installed, the company will train the operating law enforcement agency how to work them, Rapp said.
At the moment, Rapp said he is lobbying the Douglas County Sheriff's Office for the task. He'd like to see the Lawrence Police Department involved as well, but with Chief Tarik Khatib retiring this summer, he's waiting until they have a less tumultuous schedule.
Training the deputies wouldn't take much time, Rapp and Dymacek agree.
In addition, the kiosks themselves are simple and easy to operate, Ford said. Now, he can update the screens directly from his cellphone if he needs to.
"The investment from the Sheriff's Office would be minimal," Dymacek wrote in an emailed response to questions. "It would take no more time, effort and money on the part of the Sheriff's Office than it does entering information onto our social media accounts or relaying information to the media."
Dymacek said the kiosks would complement the office's online efforts.
"Obviously, social media is a great way to get out important information to the public," she said. "The kiosks would be an additional avenue to share information with the community."
A part of that effort to share information is determining where to place the kiosks, Rapp said. They tend to have the most impact in high-traffic areas like Wal-Marts or other stores with large numbers of customers, he said.
Ford said in Iola the department has one kiosk at the town's Wal-Mart and another in the lobby of the city's municipal court.
"It's kind of funny, we get tips that coincide with court times," he said. "The people are probably coming in for court, hanging out in our lobby and they've started to call in tips."
Dymacek said kiosks in Lawrence might also be effective downtown and on the University of Kansas campus.
Ford said Iola's two kiosks suit the small town just fine and they likely won't be adding more in the near future.
But considering the size of Lawrence and Douglas County, Rapp said he'd like to see four in the area. Perhaps two in Lawrence, one in Eudora and one in Baldwin City, he said.
Another benefit to the devices, Rapp and Ford agreed, is that they can share information with other departments or jurisdictions who also use the kiosks.
For example, if a wanted person in Iola moved to Wichita, Ford said he can send a digital wanted poster to that area, which would then be approved by local law enforcement and posted within a matter of minutes.
"If there was information from a neighboring agency the Douglas County community needed to know about, such as an Amber or Silver Alert, that would be something we could and would want to have shared on the kiosks," Dymacek said.
In all, Rapp said the kiosks are located in approximately 21 states. And all of them have the potential to communicate with one another.
It's unclear if, or when, the kiosks might be available in Douglas County, Rapp said. But he'd like to see a few installed sooner rather than later. Really, it all comes down to finding businesses that are willing to front the costs and host their location, he said.
Anyone who might be interested in the kiosks is encouraged to call Kansas Crime Stoppers at 785-843-8477, Rapp said. The organization is looking to add new community board members, as well.