Repurposed kiosks to help AMP up Active Marion Project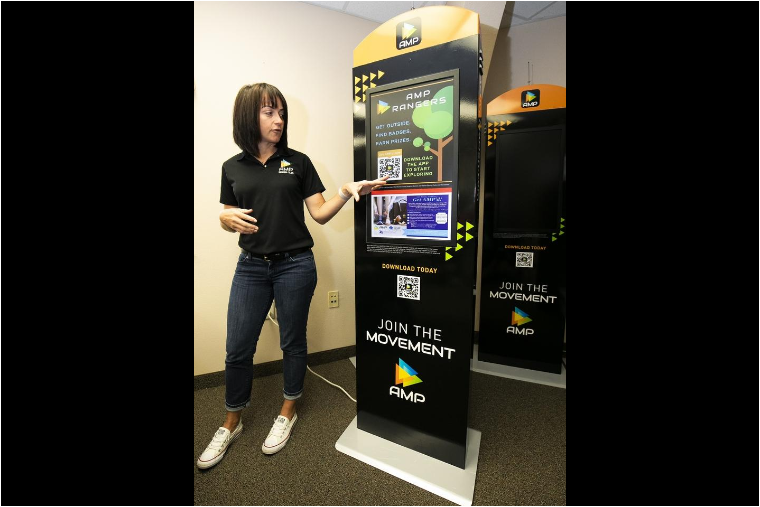 Photo by Doug Engle [Staff Photographer]
Brianna Liles, project director for the Active Marion Project, talks about the repurposed kiosks that will be placed throughout the county in the near future while at the Marion County Hospital District headquarters on Friday.  The kiosks were formerly used in law enforcement initiatives under former Sheriff Chris Blair.  About $9,000 was spend to upgrade the hardware and software in 11 of the units.  Some of the revamped kiosks will go to the Health Department and others will go to health clubs, doctor office and other locales.  They will feature health facts, inform people about programs and promote the AMP app.  [Doug Engle/Staff Photographer]
The kiosks originally were used for crime prevention. They will now be used to promote healthy lifestyle choices, events and a free mobile app.
Editor's note: The portion of this story concerning former Sheriff Chris Blair has been edited to reflect what an internal investigation determined about the kiosks and to note that Blair has consistently denied any wrongdoing.
A handful of scrapped crime prevention kiosks tied to former Marion County Sheriff Chris Blair have found new life as part of a Marion County Hospital District health and wellness initiative.
The Active Marion Project (AMP) took 11 of the kiosks and gutted them, installed new electronics and will deploy them around the county to promote healthy lifestyle choices, events and their free mobile app.
The cost of the retrofit was about $9,000 and includes the ability to update or change the messages scrolling on the monitors remotely and for individual kiosks.
Originally, almost 150 of the kiosks flashed crime prevention messages, photographs of missing children and pictures of wanted people across dozens of public spaces around the county. But shortly after Blair's arrest for felony perjury and removal from office in 2016, an investigation showed the kiosks contained unsafe electrical parts and were fire hazards. An internal investigation said Blair and a top administrator in his agency violated at least four agency policies in connection with the kiosks. Blair has consistently maintained that he did nothing wrong.
After sitting idle in a warehouse for a couple of years, at least a handful of the kiosks will return to public spaces.
Three of the kiosks will go to the Florida Department of Health in Marion County and get set up in high-traffic waiting areas. The scrolling messages give health tips, updates on programs and can incorporate department of health initiatives as well.
"The health department plans on moving them from event to event," said Curt Bromund, Marion County Hospital District executive director.
The others will rotate at different high-traffic areas, including health clubs, doctors offices and other public locations.
In addition to the new hardware, new software was written for the kiosks that can also incorporate video.
"We can actually schedule things with this software so it can run from a certain date to a certain date," said Brianna Liles, program director.
Bromund hopes to also get the the kiosks into local emergency rooms.
"It's really a low-cost way of promoting public wellness," he said, when compared to billboards and other forms of advertising.
The kiosks have new graphics on the outside that include a QR code that, when scanned with a mobile phone, takes the user to the app download page. The app tracks the users steps. Users can join challenges individually or on teams to compete against each other and earn prizes and mobile badges.
An interactive function was recently to the app in which users can trek through some county parks to collect badges at certain points.
"They have some surprise badges, like a digital coupon that can be redeemed for prizes," Liles said.
AMP kicked off in January with the hope of getting more Marion County residents up and active.
The mobile app also is available by searching "Active Marion Project" in either the Apple Store or Google Play. More information about AMP is available at www.mchdt.org/active-marion-project/.