Electronic kiosks to tackle crime, keep citizens alerted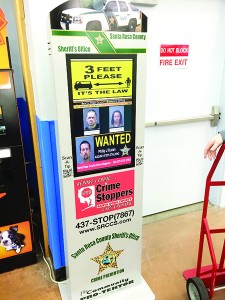 The sheriff's office installed one of the units at the Navarre Walmart on Tuesday. (Photo by Mat Pellegrino | South Santa Rosa News)
The Santa Rosa County Sheriff's Office is adding additional staff to tackle crime around the county and it's not costing them a dime. Their new recruits? Its citizens.
The sheriff's office recently announced their plans to erect an "Electronic Crime Fighter" in every Walmart throughout the county.
The electronic kiosk, called "The Community Pro-tektor" will showcase wanted fugitives, missing people, arrests of the week and public service announcements. Citizens can use the QR code on the kiosk to submit anonymous tips to CrimeStoppers, as well.
"We can display several fields…Amber Alerts and Silver Alerts. Any message we want to convey to the community, we can now do it remotely," said SRSO Public Information Officer Sgt. Rich Aloy.
The sheriff's office will be able to send information and update the kiosks remotely from the sheriff's office in East Milton. The kiosk idea came from Marion County (Florida), according to Aloy.
"We put them in the most highly trafficked areas we could find," Aloy said. "Wherever we can have it be seen the most by the general public."
On Tuesday, the sheriff's office installed the kiosks inside the Navarre and Tiger Point Walmart Supercenters. The kiosks are located near the Customer Service/Returns section.
The cost of the kiosks? Not taxpayer money.
"It comes from the crime prevention funds. Those dollars are generated from when someone goes to court and has to pay court fees," Aloy said.