New digital kiosks designed to catch criminals
Kevin Robinson, krobinson4@pnj.com  9:01 a.m. CST January 11, 2016
Original Post: http://www.pnj.com/story/news/2016/01/10/new-digital-kiosks-designed-catch-criminals/78515940/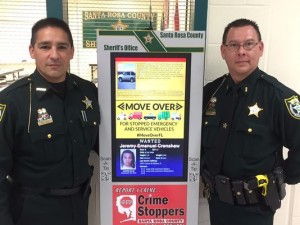 (Photo: Kevin Robinson)
It's suddenly much easier for local citizens to get their face on the small screen.On Thursday, the Santa Rosa County Sheriff's Office began broadcasting wanted fugitives, missing persons and public service announcements on electronic kiosks that will be distributed around the county. The devices are called Community Pro-Tektor Kiosks, and they are essentially portable, free-standing billboards that broadcast need-to-know information to the community.
"When someone comes up missing or wanted, the only way people really know about it is if it affects them directly," said Sgt. Rich Aloy. "Now we have a way to get the word out quickly to everyone at the same time."
The Sheriff's Office has three of the devices and plans to distribute them to community gathering points in the county.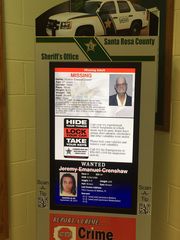 The kiosks have a three-paneled screen that can be programmed offsite to show text, photos and even video. In the case of an amber or silver alert — cases involving a missing and endangered child or adult with dementia — the screen will automatically post the person's image and information on the top two-thirds of the display.
Each kiosk can show localized data, such as Milton- or Navarre-specific fugitives, or information can be shared between locations or even different agencies. The machines also have a QR code that citizens can scan and send a tip to Crime Stoppers.
The machines cost roughly $3,000-$5,000 each, but Aloy said taxpayers aren't footing the bill.
"The dollars come from crime-prevention funds, things like fines from the courthouse," he said.
The Escambia County Sheriff's Office has seven of the machines and have been using them for about six months. Escambia Sgt. Ted Roy said they are already making an impact.
He said the Sheriff's Office uses the kiosks to highlight violent or repeat offenders that the agency really wants off the street, and in some cases the Sheriff's Office starts receiving tips within minutes of uploading the fugitive's images to the kiosks.
"If you walk into the courthouse on any given morning, you might not be able to see (the kiosk) because there are so many people standing around it," he said. "We've had 10 captures since Christmas. Sometimes you may get only six in a month, so we think it's making a difference."
Right now the ECSO has kiosks in the Sheriff's Office administration building, the courthouse Career Source Escarosa and some local businesses.
The SRSO will be deploying its kiosks in the community soon. Any citizens wishing to be a sponsor for one of the devices can contact Aloy at 983-1225.