St. Johns County Installs Kiosks To Help Solve Crimes, Find Criminals & Offer Safety Tips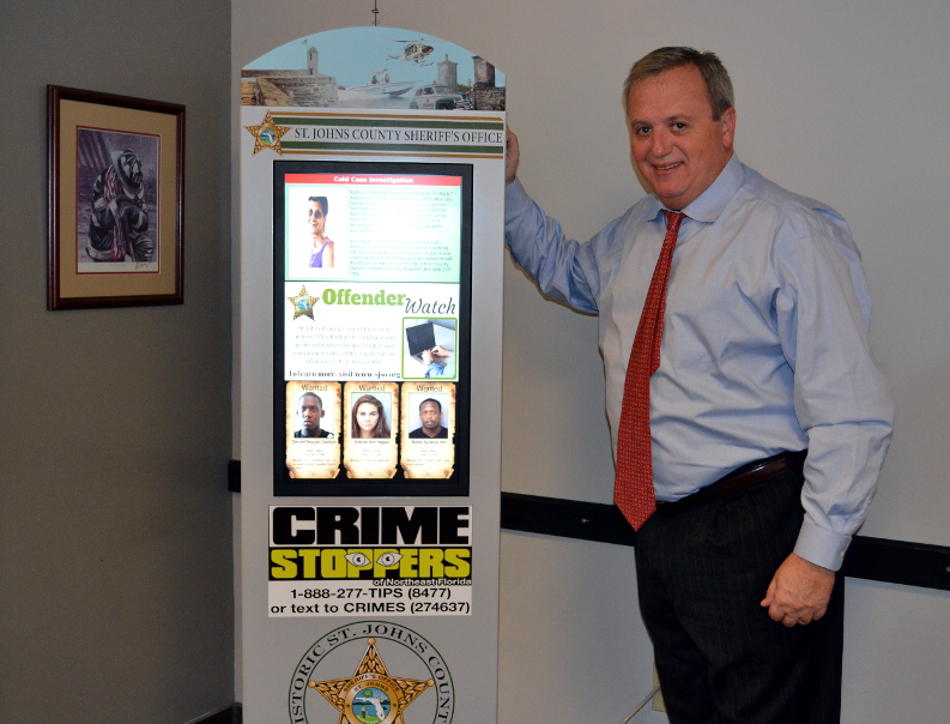 St. Johns County Sheriff David Shoar stands next to a new Pro-Tektor safety kiosk. There will be six placed throughout St. Johns County.
CREDIT ST. JOHNS COUNTY SHERIFF'S OFFICE
The St. Johns County Sheriff's Office is using a new way to put public safety information in front of residents.
Federal dollars are funding six safety kiosks in busy areas around the county.
The Pro-Tektor kiosk screens are divided into three sections. The top shows information about missing people and unsolved crimes. The bottom of the screen shows information about wanted criminals and sex offenders and in the middle are safety tips.
Commander Chuck Mulligan says right now it's Halloween safety.
"We don't want to reinvent wheels, but what we want to do is continuously keep these safety messages in front of people and also the crimes that we are looking to solve," Mulligan said. "Because we never know when someone may be that may have the key to help us solve one of these crimes."
Mulligan says a Florida pilot program of the kiosks led to tips law enforcement agencies would have not had otherwise.
So far, kiosks have been installed at the St. Johns County Courthouse and Tax Collector's Office.