The Pro-Tektor®, Inc's Product Offerings
LAW ENFORCEMENT RECRUITMENT SYSTEM

SCHOOL RESOURCE KIOSK SYSTEM

Its all about simplicity, impression and retention…
We developed this software with law enforcement to be fully-customizable to your agency. Including your agency's badge to be designated on the template; including custom fields, allowing this to be user friendly for all applicants.
Protecting Our Schools Today Requires a


New & Innovative Approach!!
The School Safety Awareness Kiosk System platform sets the standard for Schools across the country by enabling them to issue real-time notifications, alerts, and warnings.
This iPad app allows several splash screens that promote your agency and allows the applicant to enter their own info (see sample of info collected below). Then each record is provided a unique ID number and emailed to a recipient(s) at the agency's office. Each applicant's info can then be added to a master Excel spreadsheet.
This state-of-the-art safety kiosk system is designed to be schools awareness & notification center/network, for issuing real-time messages from the Principal and/or Superintendent, alerts, school events, PSA's, warnings and more; to parents, students & faculty to ensure a safer place to succeed.
ELECTRONIC CRIME-FIGHTING KIOSK
This new addition of a wall-mountable kiosk to our arsenal strikes the perfect balance between cutting-edge style and technology with extreme versatility – allowing organizations to display their important information using a smaller medium.

The Community Pro-Tektor platform sets the standard for Law Enforcement Agencies across the country by enabling them to issue real-time community alerts, notifications, & warnings.
The Pro-Tektor®'s Wall Notification Kiosk combines its revolutionary technology and custom LEO networking software in a sleek compact wall-mount design, ideal for jails or anywhere floor space is limited.
This kiosk system is designed to be law enforcement's own personal news network for issuing real-time community alerts, notifications and warnings to the general public for assistance in locating missing people, identifying people of interest, and issuing positive community PSA messages from the Sheriff or Chief.
JUNIOR NOTIFICATION KIOSK
The Junior Countertop Kiosk unit is also durable, attractive and space efficient. Constructed from 5052 Aluminum and capable of withstanding substantial wear and tear; the smaller design of the Junior unit compliments the original, full standing Pro-Tektor kiosk unit, and requires only minimal space.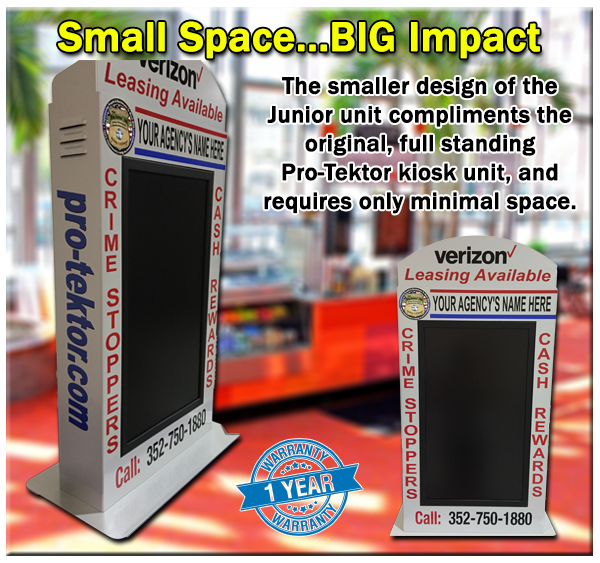 This Plug-N-Play unit is designed to stream photos and videos of wanted criminals, unsolved cases, cold cases and more! Feature YOUR counties most wanted fugitives & unsolved crimes.  Criminals know criminals, so why not use your captive audience and existing TV network for generating tips & locating other wanted fugitives?!?
Ideal for jails/prisons and wherever a TV network is already setup.